4 things I learned from our customers on getting responses from prospecting
If you have been reading about how to write the perfect outbound email sequence, you might have been wasting your time. At least, this is a conclusion I got from doing a quick experiment.
A few weeks ago, I was looking into best practices in prospecting as we were about to start an outbound motion at my company. A google search returned 100s of posts on best practices and 10s of "ultimate guide to outbound prospecting". Each sales specialist gives tons of advice, tips and hacks.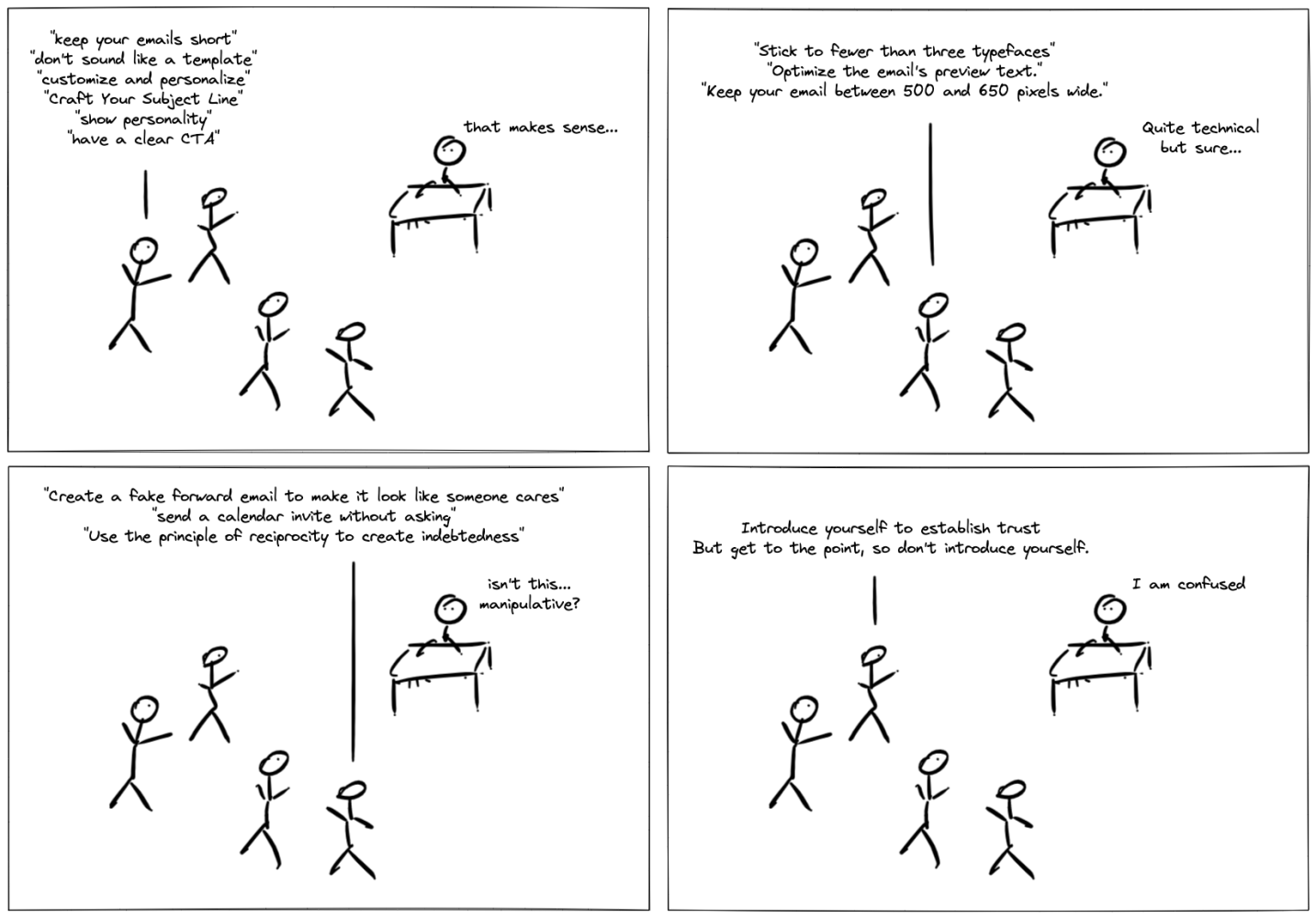 One core value at MadKudu is customer-centricity. It might sounds overused and cheesy, but there is nothing more rewarding than working with our customers' problems. Customer centricity is not a philosophical concept or a strategy. It is a daily practice.
None of the outbound resources I saw seemed to really consider the perspective of the buyer we're sending emails to.
"What if instead of asking sellers, we asked our customers what works for THEM?"
I sent 30 emails on that Friday afternoon to our customers and target market, ie. friendly CMOs, revenue leaders and executives. I asked if they could remember a cold email from a vendor that they responded positively too.
I quickly got about 15+ responses. This is a small number but the answers were surprisingly similar. Almost none of them mentioned the hacks and tips shared by the outbound specialists. Most of the things they mentioned were not about the message they received.
(1) Stop overthinking. Often, it does not matter what you say, some buyers just don't respond to cold email.
A few of the respondants shared that they just don't read cold emails.
Some of them have exec assistants who deletes those emails.
"truth to be told: [anonymized] cleans up my inbox so that I don't see those most of the time 😬 A few mentioned only reading emails in a certain"problem space" and they ignore everything else."
"I gave your question some thought and remarkably I could not recall a cold vendor email in recent memory that I responded to because it really described some pain that I was experiencing and wanted to learn more. I have responded to cold emails from other sources like investment pitches or recruiters but that is totally different. Like everyone, I also get so many that I simply don't bother to open 95% + of them." Others use Gated to filter out the noise.
"I honestly only engage with senders who donate and the quality is less important than the fact they value my time. Gated truly can change cold email" And this is quite obvious, the problem needs to be top of mind. Folks don't have time for conversations outside of what's at the top of the agenda right now.
"[The cold email] made a point that resonated with something that was top of mind for me at that point in time (timing). An example was Sirius Decisions reaching out to me 3 months after one of my first CMO roles with a message around what a new CMO should do in their first quarter in a new gig. I ended up buying their research and going to their conference. Another example is a cold call thread that I will forward you about a sales enablement software that I received recently. It's top of mind to me to build a top-class sales enablement program, so I want to learn more." Many shared that the technicalities of the email does not matter with an exception of the subject line.
"the exact content of the email itself, banners, graphics, etc. does not really matter."
(2) The message is a small part of the buyer's decision to respond. Invest in brand, reputation and the website.
Many buyers reported to check the website the sender was from before deciding to respond or not. This is a good reminder on the importance of branding. And a reminder on the important of working closely with the marketing team to make sure the website sells the value proposition well and to have a messaging aligned with the outbound.
"It comes from a brand that I had recently heard good things about and was somewhat relevant to what I was doing (hype). For example, I had responded to a Terminus cold call in the early days of ABM. In all cases, I will visit the website (directly, not by clicking a link in the email) before responding."
(3) Buyers are actually very eager to get
REAL

insights from vendors. Particularly a good case study with a competitor.

This was maybe where I was the most surprised. I received many anwers that shared the exact same specific feedback. They want to see a good case study with a competitor.
"It described a good case study story with a competitor or a company that I looked up to (social proof). For example, I had responded to an SEO agency cold call that featured one of my competitors."
"I learned what my competitors are doing and how"
"It referenced some data or case study (if it's a competitor then very compelling)"
"It helped me learn what my peers are doing"
(4) Buyers appreciate sellers who make it easy for them, not for themselves.
This last type of feedback aligns better with what outbound specialists shared. I got answers reminding the importance of respecting the buyer's time by doing the proper research and by showing value first via email before asking for a meeting.
"It gets to the point very quickly (don't waste time introducing themselves)"
"It gives me a chance to learn more without asking for a call; sometimes"can I email you with more info" works but it needs to be genuinely valuable"
"It shows insights about my company"
"It has stats and insights on my own company or activity"
"The person I responded to had to be at the right level. I will not take a meeting with an SDR"
I found some of the points made by customers fresh and powerful. At MadKudu, we're doing OK on some areas and we will work further on others.
Specifically, and this message probably applies to all of us out there in the revenue community: buyers are tellings us that companies could benefit from investing more in doing the hard work of creating value pre-sales instead of looking for quick hacks and tricks to get someone to respond. And customers are (almost) always right!
Now your turn: Agree, disagree? Have you asked your customers how they buy? What data points did you see?
---
Date
March 16, 2022
---
---